RMB-1405-LN | Master Series long neck open back 5-string banjo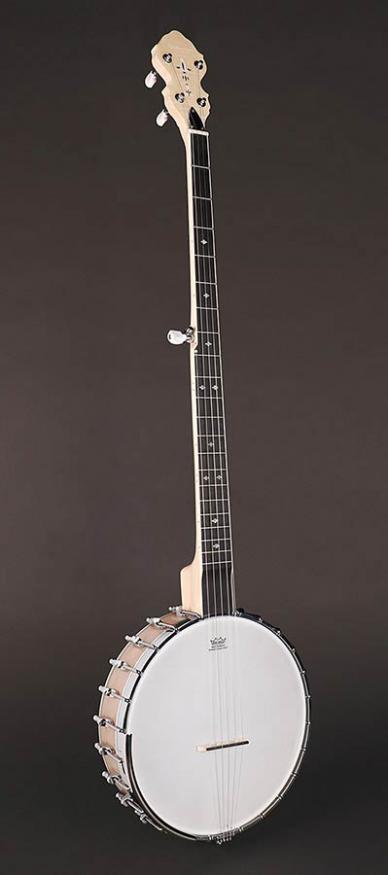 RMB-1405-LN overview
long neck open back 5-string banjo, maple rim, 24 brackets, whyte laydie tone ring, incl case
Richwood RMB-1405-LN

The Richwood longneck banjo is tuned in the low E tuning with the same intervals as the G tuning of a standard banjo. This low tuning can be used in many music styles and fits many singers better than the higher pitched G tuning. With a capo on the third fret, a regular banjo tuning is acheived again. Because of the low tuning this banjo is best used with medium gauge strings.
The open back of this banjo gives it a round, mellow sound. To be sure it will not drown in the mix, the Richwood RMB-1405-LN has a Whyte Laydie tone ring which gives it ample volume and clarity.The RMB-1405-LN has two coordinator rods for improved stability.

The most well known player of long neck banjos is Pete Seeger
The fingerboard is scooped from the 18th fret upwards to facilitate the frailing technique. Because of the long neck, a standard case would not fit and we supply a case with each Richwood RMB-1405-LN.


RMB-1405-LN
| | |
| --- | --- |
| top | Remo Renaissance 11" |
| rim | 12,7 mm 3-ply maple |
| resonator | open back |
| tension hoop | notched brass, chrome plated |
| tone ring | Whyte Laydie brass, chrome plated |
| neck | maple |
| fingerboard | ebony |
| fb inlay | MOP snowflakes |
| bridge | 5/8 inch maple with ebony cap |
| machine heads | high quality planetary machine heads 4 |
| arm rest | Vega style |
| truss rod | two-way adjustable |
| coordinator rods | two coordinator rods |
| scale length | 813 mm / 32" |
| nut width | 30mm |
| nut material | bone |
| binding | ABS black |
| finish | highgloss clear |
| hardware | chrome plated |
| strings | 013, 026W, 018, 016, 013 |
| tuning | E-B-E-G#-B |
| brackets | 24 |
| weight | app. 3,2 kg |